Swollen feet can happen for a variety of reasons, from the weather to pregnancy to health concerns, and that should alert a person to more significant problems. Kidney and heart disease are known to cause swollen feet, as do other conditions like edema and lymphedema. When you suffer from conditions like the ones mentioned, you need secure footwear specially designed, allowing your foot to be comfortable.
Foot abnormalities also play a role in the footwear you choose. Afflictions like hammertoe and claw toes would fit the description here. At Care-Med, we want to help you identify your foot problems and make the right decision for footwear that meets your foot problems' demands and enables you to slip into comfortable shoes.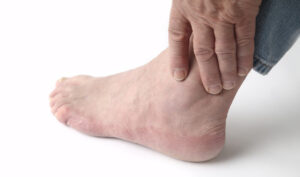 In many cases, people who have swollen feet or abnormalities try to wear off-the-shelf shoes, which is detrimental to their condition. The problems that can arise from wearing ill-fitting shoes are numerous. A person can trip and fall, roll their ankles, causing sprains and strains that are painful. That creates more problems because they are wearing shoes that aren't compatible with their condition.
Things to look for in footwear
Shoe width
The width of the shoe is paramount to a comfortable fit. When your feet are swollen, they won't fit in conventional shoes; that is a given. It would be best if you had a wide shoe that won't put any pressure on the foot – it relieves pain and allows for a natural gait when walking.
An adjustable shoe
Feet will swell, and not always the in the same volume or at the same time. It is incumbent on the wearer to buy a shoe that accommodates alterations throughout the day. Shoes with straps, which can be adjusted during the day that will allow for swelling, are the best solution to the problems you are experiencing.
You want to stay away from shoes with laces because they don't allow the foot to swell and recede and cause pain when the shoes are tight. Also, if you have tied your shoes when your feet are swollen, you will see your feet slide around in shoes that aren't tight to the feet, creating balance problems.
Shoes for edema
When you suffer from edema, your feet need a unique biomechanical shoe to help relieve stress and pain to create mobility and a happy lifestyle. In that light, we at Care-Med would like to offer solutions when selecting shoes that are compatible with your condition.
Elastic uppers
You need uppers that will follow your feet' contours, and it helps if the upper is made of flexible elastic material that doesn't bind when the shoe is worn. The flexibility allows for more room for your swollen feet to fit into.
Shoe depth is essential.
Swollen feet frequently require an orthotic to work with the shoe to create a stable, comfortable fit. A deep depth of the shoe will help with this problem and create a pressure-free environment for your feet to feel relaxed and pain-free.
Bigger toe boxes
Toes swell, as do feet, and when toes swell, they need more room to feel comfortable. That is why you need a bigger toe box to let your toes swell without discomfort.
Wider widths
Swollen feet need to be fitted with broader shoe widths to get the best results from the footwear available. At Care-Med, we carry many different types of shoes to help with a person's needs that need an extra-wide shoe.
Shoes for lymphedema
When we talk about lymphedema, we are talking about the build-up of fluid in the extremities, and it manifests itself in our feet. The condition is a chronic one, and to date, there is no cure for the condition.
The condition is a failure of the lymphatic system, and that is how the fluid volume increases in your feet. The condition is divided into two categories, primary and secondary lymphedema. In the first case, the cause is a genetic problem that can be detected in early age groups. The second case comes from damage to the lymphatic system that causes fluid drainage problems.
Tips for buying shoes
Measure your feet; if you visit a clinic like ours at Care-Med, we have a certified, credentialed expert to take your measurement. When you experience swelling, the shoe size you wore in the past may not be the right fit for you now.
Like edema, lymphedema suffers need a shoe with a wide toe box – if the toe box is too tight, your feet won't have enough room for your feet to be comfortable. Ill-fitting shoes are the bane of lymphedema suffers, and it impacts the quality of their life.
Lymphedema suffers see their feet swell, and it causes the feet to widen. A standard shoe will not accommodate the problem, so you need to look for a shoe with a wide fit.
Feet swell, but they don't do so on a consistent basis so that the swelling volume can be different on any given day. You need shoes that you can adjust when the swelling is acute or slight. It will provide stability and a snug fit that isn't uncomfortable.
Care-Med has all the shoes you need
When you need shoes that will suit your needs when your feet are swollen, we at Care-Med have the selection you need to treat your feet right. Our inventory is one of the largest in the Greater Toronto Area, and we stock only the best brands on the market. From Drew to Apex, Aetrex, Anodyne, Propet, PodoWell, Oasis, and I-Runner, they come in many styles and colours for the most discerning shoppers.
We have a chiropodist and podiatrist on staff that are credentialed and certified to provide quality medical advice when you need a show that satisfies your health needs. Should your problem require a prescription shoe that meets the insurance company's criteria, we can help you. We accept all certified insurance carriers, Veteran's Affairs benefits, Circle of Care, ODSP and Ontario Works plans to help with your footwear cost.
Share This Story, Choose Your Platform!
For inquiries, please email our office at info@caremed.care, and we will send a quick reply will be sent about your condition. If you require a personal consultation that requires an appointment, please call the office today at Care-Med at 416.782.5353.