Self-Bandaging and Home Care
Fast'n Go Hybrid Bandage
Bandage fastening has always posed a challenge, especially for patients self-applying bandages to their upper limbs, where they have only one hand available. Recognizing the need for a solution, Fast'n Go Hybrid Bandaging System was developed with two essential goals in mind: simplicity and comfort.
The patented fastening system consists of a soft material band with hooks and loops that only grip to each other when stretched. The application and removal of the bandage is effortless and gentle on the patient, and it does not cause damage to the bandage. The hook easily attaches to the bandage and can be quickly removed when necessary.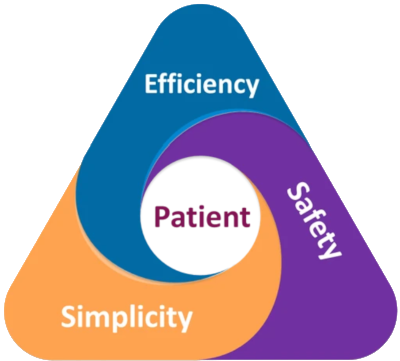 Simple and Fast
Self-Bandaging & Homecare
Faster application as only one bandage to be applied

Identical sides and no need to worry about which one has to be in contact with the skin

Stretchability limited mechanically for safer and more reproducible compression

Anchor Point for easier application start, especially when self-bandaging the upper limb

Pre-stretched bandage application technique

Visual guide for easier 50% overlap

Washable, reusable and very comfortable against the skin
Fast'n Go Bandage Combines
Inelastic & Long Stretch Bandages
Inelastic Bandages
The customizable fit of inelastic bandages allow them to be wrapped tightly or loosely, depending on the individual's requirements. Moreover, these bandages can be trimmed to match the size and shape of the affected limb, ensuring a comfortable and efficient fit for the patient. Inelastic bandages are more supportive and less bulky, allowing for improved mobility and enabling patients to carry out their daily activities. Additionally, the compression provided by inelastic bandages is consistent over time and does not loosen or slip.
Long Stretch Bandages
Long stretch bandages provide multi-layer compression, allowing for graduated compression to enhance blood circulation and lowering the risk of blood clots. Additionally, these bandages are made of high-quality materials that can withstand frequent washings and long-term use, making them a cost-effective option for long-term management.
.
Hybrid Short Stretch Bandage
The Fast'n Go Bandage utilizes a hybrid patented technology, enabling it to combine the advantages of inelastic bandages (high working pressures) and long stretch bandages (easy application) while eliminating their respective drawbacks. As a result, it is the only short stretch bandage that can provide the benefits of both inelastic and long stretch bandages.
Fast'n Go Tutorial Videos
How to Measure the Arm
for Fast'n Go Bandages
How to Measure for the Half Leg
with Fast'n Go Bandages
How to Measure the Full Leg
with Fast'n Go Bandages
How to Pre-Roll Hybrid Fast'n Go
Bandages for Perfect Compression
How to Wrap Your Hand and Arm
with Fast'n Go Bandages
How to Wrap a Half Leg Fast'n Go
Bandage for Compression Therapy
How to Wrap a Full Leg Fast'n Go
Bandages for Compression Therapy