What is Proper Orthopedic Shoes/Footwear?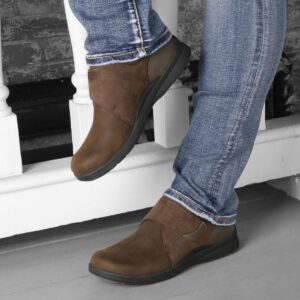 Orthopedic shoes are Non-Custom/Off-The-Shelf or Ready-Made Footwear designed to accommodate specific foot abnormalities. This footwear must be made and marketed by the manufacturer as "Orthopedic" footwear and meet specific criteria in order to qualify as orthopedic footwear.
Brands such as: Anodyne, Orthofeet, Drew, Apex, Aetrex , Propet, Biotime, Podowell , P.W. Minor are all part of the line of premium orthopaedic footwear that we carry. It has been bio-mechanically refined to bring comfort, therapy and a fresh style. These brands target the fundamental roots of orthopedic footwear and are manufactured according to strict medical regulations.
Orthopedic shoes come in many sizes and width, and removable foot-bed/insole. The removable insole will make room in the shoes to accommodate orthotics and/or permanent modifications/adjastments.
We will modify your shoes if needed, according to the foot doctor's recommendations. All abnormalities will be accommodated according to your prescription, so your shoes feel like they made exactly for you.
Medicare (USA) and Canadian Health Insurance will recognize the above shoe brands as "orthopedic" and will cover the expense of purchasing them.
We highly recommend, that after choosing your shoes at our office, to have them pre-approved by your insurance carrier, if you choose to have them covered.
Why Choose Orthopedic Shoes?
Orthopedic shoes provide comfort, stability and address foot problems. Some come in narrow to 5E/W width and others come even wider
You can have extra depth to accommodate orthotics/adjustments as well as conditions such as hammertoes and bunions.
Orthopedic shoes can be made from soft material for extra comfort to support diabetic feet. They are also an excellent choice for arthritic feet and knee problems.
There is no need to compromise or settle anymore and end up buying the wrong shoes for your feet because of the look. These days orthopedic shoes are made to look beautiful and be well constructed.
Brands We Carry









---