When the weather changes, so do our wardrobes. For many, a trip to the shoe store or big box store is the way to acquire winter footwear. But, proper fitted winter winter orthopaedic boots can't be purchased off the shelf.
Getting that warm coat out of the closet is the first step, as is bringing back those warm sweaters and long pants to protect ourselves from winter's ravages. When the snow flies, we need footwear to keep our feet warm and dry for an extended period of time.
Care-Med offers custom orthopaedic shoes and boots for winter wear and stock only the best brands available for you to choose from.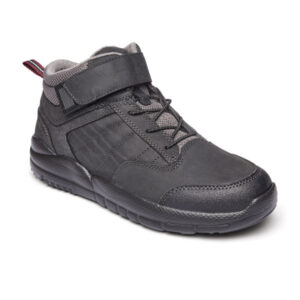 For women, the selections are many, and the styles and colours, and applications for winter wear will be all you need to address your winter footwear issues.
The Drew Iceberg, Glacier, and Snow boots for women have a great deal of protection built-in to the stylish boot. They are waterproof and have a strong moisture-wicking component, with firm heel counters to keep your foot in place, and they are slip-resistant for your convenience.
Multiple removable footbeds that address added and double depth needs
A leather upper that is waterproof
An Eva insert that can be molded or removed
Heel cushion built-in
Steel shank
The outsole is a non-marking rubber compound and slip-resistant
Can be accommodated to prescribed orthotics
You can choose from the Kool, Kalm, or Krista selections for dressy outings and receive the same protection as the Iceberg, Glacier, or Snow winter wear.
All products are waterproof and provide excellent protection against winter's worst weather events.
For hiking and winter activities, the Anodyne 55 is the one for you ladies. For people with diabetes, hammertoes, plantar fasciitis, or neuropathy, this is the only boot for work, walks, or activities.  The 55 model boots come in two colors. The dress model, Anodyne 91, comes in black and grey. The footwear has many benefits like a soft, supple outer shell, moisture-wicking interior, antimicrobial lining, wide with a protective box, a removable depth insert, comfortable insoles, and slip-resistant.
Anodyne winter footwear for men comes in many different selections for the active and not so active man. The Anodyne trail boot, the 56, comes in two colours and has a Velcro wrap to keep the boot snug to your foot. Like its cousin, the Anodyne 90 comes in two colours that are zip up and laces and to keep our feet stable in this stunning selection for winter wear.
In the Apex line of winter wear, you can have the Apex LT410 Hudson in a classic Chelsea-style that laces-up or the Apex LT460 Chelsea zip up style in boots. The hiking boots that Drew offers come in models A4000 and A4100 in brown and black that strap on with elastic laces and a Velcro strap to secure your feet firmly in the boots.
If your selection takes you to the Drew line of winter wear, the Rockford comes in three colours with thermolite technology that is waterproof. As an alternative, you can have the Boulder, low-cut style for those who seek something a little different in winter wear. Drew's Canyon and Trek models are a hiking boot style and shoe style when you need a different look or style. Both come in core colours, and we can show them to you when you come for a fitting at Care-Med.
Fittings for Winter Orthopaedic Boots
To obtain the best fit for winter Orthopaedic Boots, visiting the clinic would be a prudent decision for a couple of reasons. But, under the current circumstances, an in-person fitting might not be in anybody's best interests. If calling in for a fitting is how you have chosen to select your shoes, we can help with a teleconsultation to get the right size and choice of product for your convenience.
Once the product has been ordered, we can ship it directly to the patient for their convenience. But, you must remember, if you want to expense your orthopaedic product to your insurance company, s chiropodist must dispense the shoes in question.
During the fitting process, a chiropodist and pedorthist will examine the patient to determine the proper fit for the patient's shoes to their feet.
Problems like bunions, claw toes, hammertoes will require extended width in the shoes, and at Care-Med, we have the tools for the measurement to create a comfortable fit. Our staff has a wealth of experience fitting feet with orthopaedic boots, and we will fit your feet expertly.
After the fitting has taken place, an order is placed with the lab, and in two weeks, the shoes are ready for you to pick-up or have delivered. This will include any modifications required to deal with the affliction that a person has when they order the shoes.
All the shoes and boots we sell are A5500 approved as a medical orthopaedic product that comes in a range of sizes and depths to accept custom-made orthotics that require prescribed modifications.
Payment for your Orthopaedic Footwear
When your shoes are ready, as the patient, you are expected to pay the bill in full before the product is released. Once payment is secured, an information package is released to the patient. It includes the details required by your insurance to reimburse the payment. There are two exceptions here if Veterans Affairs or ODSP guarantees the payment, then billing will take place, and the customer is free to take their products with them.
At Care-Med, we accept extended insurance policies, Circle of Care, and Ontario Works benefit plans.
Only the best at Care-Med
For the past 13-years, Care-med has carved out an excellent reputation in the Greater Toronto Area. We have supplied quality aids to patients who need help with orthotics and garments that improve the quality of their life.
An experienced staff with a high level of expertise in their profession, excellent products is just the beginning. A caring, compassionate staff that attends to all the details that need to be satisfied before any products are released drives the results.
Share This Story, Choose Your Platform!
For inquiries, please email our office at info@caremed.care, and we will send a quick reply will be sent about your condition. If you require a personal consultation that requires an appointment, please call the office today at Care-Med at 416.782.5353.