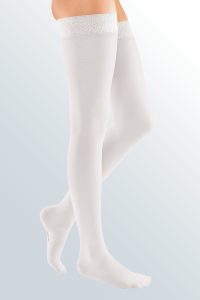 In the winter, the weather outside might be frightful, but that shouldn't discourage any active individual from getting out in the winter and partaking in winter activities with compression stockings and stockings.
Bundling up to keep the cold away is the first step to enjoying outdoor activities, but for some people, it isn't as easy as that. If you have problems that require compression stocking or socks, you might not be able to enjoy winter fun. Thankfully, your friends at Care-Med have everything you need to enjoy winter fun or just maneuvering around in the dead of winter.
At Care-Med, we have a wide array of winter compression stockings and socks to keep the most active mobile in the winter, and for those who seek to traverse their daily grind, we will keep you warm and cozy with the winter upgrades to your wardrobe.
Conditions that require compression socks and stockings
A doctor may prescribe compression wear to address the following problems:
Poor blood circulation in your legs
Help support veins in their role in blood circulation
To stop the pooling of blood in your leg veins
Help diminish leg swelling
If you suffer from orthostatic hypertension – you're lightheaded or have balance problems when you stand
You have venous ulcers
Stop the development of vein thrombosis in legs
Pain relief from varicose veins
Blunt the effects of hypertension
The need for lymphatic drainage
Lymphedema
Now that you understand the need for compression wear in the winter, let's take a look at what you can obtain at Care-Med when you want warm compression outerwear. The stocking and socks on the market now are made from blended fibres like a mix of soft cotton and elastic fibres. The two materials offer a gentle massage to help move body fluids from your feet and legs and keep it from pooling in your lower regions.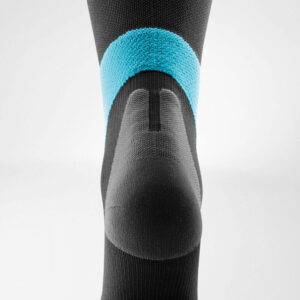 Winter compression stockings and socks come with many advantages for men and women who want to enjoy winter's splendor in comfort. The selections of compression wear that we at Care-Med, hold in our inventory are stylish and colourful. The stockings and socks choices are as different as the people who buy them, and their applications can be across the entire winter activity spectrum.
We want assure our patients that we can fit you for custom-made stockings to suit your form and body type. At Care-Med we are a Health Canada and Insurance Approve Vendor and Fitter for all types of ready-made and custom-made compression wear.
If you like hiking, we have an extra soft-sole sock to keep your feet warm and comfortable for an afternoon of winter fun.
If the need is in the area of winter stockings, we have ribbed stockings in knee and thigh lengths available. These two selections offer a great look with pants and skirts, so ladies, don't hesitate to update your wardrobe with stylish stockings. T
he stocking and socks we sell at Care-Med cross the entire fashion palette – from stripes to solids and everything in between, whatever your taste, we have it at Care-Med. The many brands we sell come with a wide selection of wool blends that offer warmth along with the haute couture you are looking for from your wardrobe ensemble.
Boring and bland is so 1999 in the world of compression socks and stockings, and the 21st-century styles have taken the stigma from compression stockings and socks. Stay warm and beautiful, ladies with compression wear. Select the latest styles and colours when you need compression stocking or socks.
For the other half, men, we have stylish and colorful socks and stockings to compliment your personal style that says you're a man.
Do you want bling with your compression wear?
If the answer to the question is a resounding yes or not, so resounding Yes! We have bling for your compression wear at Care-Med. Let us take you to the world of lead glass crystals that can be affixed to your compression wear. Swarovski crystals have been in vogue since they were invented in Austria in 1892.
Your new adorned socks and stockings will have just the right compression as prescribed by your doctor with a splash of pizzazz that expresses your inner character and style.
Do you have insurance coverage?
To obtain winter compression stockings and socks paid through your insurance company, a physician must prescribe them. The medical grading system starts at 20mmHg to achieve the minimum medical grade status that insurance companies need to sanction the payment. When you pick-up the stocking and socks from our office, you must pay for them in full before they are released. You will receive the documentation for reimbursement from your insurance company at that time.
Help us at Care-Med help you with your winter compression stockings and socks.
When we meet with you for your compression wear needs; what we need is a prescription from your doctor that details your condition. The required compression grade is 20, 30, or 40 mmHg to qualify for insurance coverage.
Any medical diagnosis' that is in the areas of veins insufficiency, varicose veins, edema, diabetes, or lymphedema are conditions that qualifies for insurance also.
Your compression wear needs must be a full-time proposition; insurance companies won't pay for recreational compression wear, or compression wear for long-distance flights or trips. The doctor's prescription must indicate that you need compression wear daily to alleviate the problems you experience from your condition. Without adequate documentation, your insurance company will deny your claim, and you will be out of pocket for the expense.
How we fit you for your compression wear
At Care-Med, the method for getting you into your new compression socks and stockings starts with a Compression Garment Fitting. We need to measure your feet or legs/thighs to get an accurate assessment of the size and need of the compression wear that will reduce your affliction symptoms.
As part of our service, we offer a fitting at our clinic, and if a trip to our office is out of the question, we have a measurement chart on our website to help determine the size you need. Visit our compression garments page for all the self-help you need when size is the thing. If you would like telephone support to help you determine your size, we are only too happy to walk you through it.
As a market leader for over 13-years, we at Care-Med have created happy feet, legs, thighs, shoulders, and more with our outstanding service and excellent products to suit your needs when you have problems. The staff we employ holds the highest in educational accreditation and are certified to assist you when the time comes to select compression wear.
Share This Story, Choose Your Platform!
For inquiries, please email our office at info@caremed.care, and we will send a quick reply will be sent about your condition. If you require a personal consultation that requires an appointment, please call the office today at Care-Med at 416.782.5353.