Diabetes is caused when your blood sugar is too high. Insulin is the chemical that breaks down glucose that comes from the food you eat and helps distribute glucose to the cells in your body for energy. When your pancreas isn't making enough insulin or none at all, the glucose will stay in your blood and won't reach your cells. Diabetes comes in two distinct categories, and the causes are as different as the categories. For example,
Type 1 Diabetes finds its root cause in the immune system. The immune system is attacking your pancreas, creating the disease because there isn't enough insulin in the body to function normally.
Type 2 Diabetes comes from multi-dimensional problems that increase the risk of contracting the disease. Obesity is a significant driver of Type 2 Diabetes, old age, poor diet, and a lack of exercise that a sedentary lifestyle causes contributes also.
Diabetes causes many problems for the human body, and a diabetic's footwear care is critical when treating the disease. Blood circulation is the most significant risk for a person with diabetes, and it will cause nerve damage in your feet. The condition the afflicted experience is neuropathy. Neuropathy is a condition that causes a person with diabetes to lose feeling in their feet. A lack of feeling in your feet creates a situation where the person with diabetes doesn't know when a foot injury has occurred. An open wound on your foot is a place where an infection can develop, and the poor circulation a diabetic experience makes it harder for the cuts to heal and prevent infection.
The results of diabetic foot pain
Open sores on the bottom of your feet or your toes are a big problem for people with diabetes. Calluses and skin that has hardened over time are other afflictions that are prevalent for a person with diabetes. Your foot problems are evident when you have the following issues:
Bunions
Corns
Infections of a fungal nature
Gangrene
Once nerve damage has set in, people with diabetes experience a condition called hammertoe – it is a deformity where the toe joints bend inward. A lack of blood circulation can be a cause for concern for people with diabetes. Athlete's foot or blisters take longer to heal if the problems fester, they compound, and infections that lead to amputations are the net result.
Dealing with diabetes means that your feet can change in shape, and conventional shoes are no longer an option for wear. For the person with diabetes, special shoes are available to increase their level of comfort and help them live a healthy life.
What types of diabetic shoes do you need?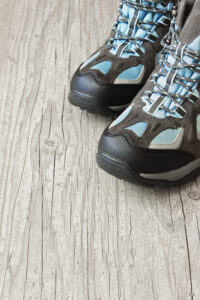 In general, when you have a handle on your diabetes, a well-fitting shoe is all you need for comfort. When you develop foot problems associated with diabetes, your physician will recommend one of three types of special diabetic shoes.
Deep-depth or in-depth shoes
Wearing in-depth shoes helps people with diabetes who suffer from foot changes. The changes include hammertoes or calluses. The increased space accommodates the changes by providing more room for the toes in the shoes. The space allowance is anywhere from a quarter of an inch to a half an inch, and they leave room for inserts as the need arises.
Shoes that help with the healing process
Foot sores or surgical procedures need special shoes to help return the person with diabetes to good foot health. Your physician will recommend open-toed footwear like sandals or a closed toe type of shoe depending on the nature of the problem.
Made to measure, custom diabetic shoes
A person with diabetes, suffering from a foot deformity, is the purchaser of made to measure, custom-made footwear. Neuropathy, damaged nerves, and or an existing foot injury create the need for a therapeutic shoe purchase. Bunions or corns will require special footwear, and orthpaedic shoes improve the comfort level of the wearer. Orthotics will be a complement when dealing with foot problems. Orthotics, inserted in the shoe, is a shock absorber, and they take the pressure off the foot.
The benefits of diabetic shoes
Better motion control
Improved circulation
Reduces skin breakdown
Stops the formation of calluses
Helps blunt the occurrence of foot pain/problems in areas of the foot that experience increased pressure
Diabetic socks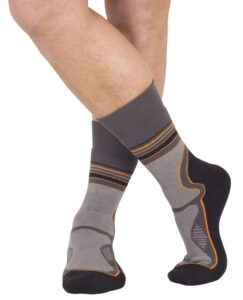 For the diabetic, special socks help keep their feet dry, reduce the risk of foot injuries, and help maintain blood circulation in the feet. The socks are superior for their ability to wick away foot sweat; they are fitted, padded, and are non-binding. The key difference, when compared with regular socks, is that diabetic socks have no elastic in them and are seamless. The socks are boon for diabetics because socks don't constrict the circulation of blood in the feet.
Diabetic socks help with the following conditions.
Your feet can change when you have diabetes. Diabetic socks can mitigate changes in the colour of your feet, foot temperature, redness, irritation in the foot, nerve problems, blistering, or fungus.
Keeping your feet dry is an imperative of diabetic socks. Sweat or moisture can be a severe problem for diabetics as it provides a petri dish of infection that leads to later health problems down the line.
The benefits of diabetic socks
For a diabetic, dry feet are happy feet. Why? Reducing the moisture factor in the shoe stops bacteria from growing by eliminating the fungal breeding ground that bacteria need to grow in. The anti-microbial nature of the socks is how they combat infections
Reduced foot swelling and increased comfort is the result for a diabetic who wears diabetic socks
Improved circulation and warmth are other byproducts of diabetic socks
Diabetic socks are seamless, and that feature reduces the problems of blisters that can lead to foot ulcers for diabetics suffering from neuropathy or hyperglycemia.
The extra padding that comes with diabetic socks help sensitive areas of your feet – like the soles – and it reduces risk to foot injuries
White-soled diabetic socks help alert a diabetic if they have an open sore or injury that is releasing fluid.
Care-Med can help
When your foot conditions have created a demand for specialty products to help you deal with your diabetic condition, Care-Med is there to help with pain relief. For more than 13-years, Alla and her team have been assisting diabetics in making the right decisions for diabetic shoes with a physician's recommendation.
The experienced, expert staff at Care-Med will help you with your purchase. They will direct you to a shoe that is lightweight and allows your feet to breathe. They will show you shoes that are soft and flexible made of suede, leather, or canvas. They will ensure that the footwear you choose will have a strong, shock-absorbing insole that is a pressure release valve for your foot. Shoes that you can loosen are essential, and Care-Med will show styles that allow for tightening and loosening. Foot support is essential for a diabetic, and Care-Med will show you shoes that have a rock-solid back to provide the support they need.
Our facility at Care-Med is an approved service provider by all insurance companies in Ontario. If you are a recipient of ODSP or Ontario Works, we are an approved fitter and vendor for your specialty, diabetic shoes.
Questions about your condition that require custom-fitted orthopaedic shoes can be addressed through email. Please contact us at info@caremed.care for more information relevant to your situation.
We want to extend an open invitation to all diabetics to become better acquainted with our office by visiting our website at Care-Med.  We offer personal, private consultations. You can book an appointment when you call our office at Care-Med today at 416.782.5353.
For inquiries, please email our office at info@caremed.care, and we will send a quick reply will be sent about your condition. If you require a personal consultation that requires an appointment, please call the office today at Care-Med at 416.782.5353.