When you are on your feet all day, you need quality footwear to protect your feet from the stresses and strains of a day's work. Women who spend their entire day on their feet suffer acute problems due to the physical limitations of their feet. Whether you have bunions, plantar fasciitis, metatarsalgia, or Morton's neuroma, orthopaedic shoes can provide the relief you need to enjoy a pain-free day.
In the past, orthopaedic shoes were, to put it gently, not very stylish, and they looked like orthopedic shoes when they were worn. Now, styles have evolved for the fashion-conscious women and the not so fashion-conscious women that combine all the elements of quality footwear with the support you need to combat any pain you feel from foot problems.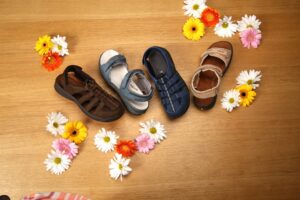 Let's not limit the breadth of the lines of shoes available for quality dhoes. Dress shoes, casual shoes, sandals and sneakers are all part of the product line at Care-Med, your home for all your needs. Care-Med stocks the best shoes on the market, and when you need a quality shoe to serve your needs, you can count on a Drew or Apex shoe to fill the void in your footwear inventory.
Before you rush out to buy orthopaedic shoes, let's look at some of the reasons you might need a quality shoe with support and comfort combined to create a pleasurable fit and a joy to wear.
Toe deformities will demand that a quality orthopedic shoe is worn – sometimes, you can get a pair from the 'rack' other times you may need a custom fitting to have the shoe custom made for your particular foot shape and or dimension. If you have diabetes, you know that the need for a quality shoe to protect your feet from the vagaries that you encounter is more than necessary. Infections can cause significant problems for a diabetic or just being damp in a shoe that has little in the way of ventilation will be a problem also.
Orthopaedic shoes are designed to meet the challenges of each individual's foot problems. They are made to support the foot, ankle, and leg biomechanics that serve a different purpose than regular footwear. If you have abnormal feet – only 20 percent of the population has feet that can be accommodated by regular footwear – you are in the majority.
Advantages of orthopaedic shoes for women
Foot Health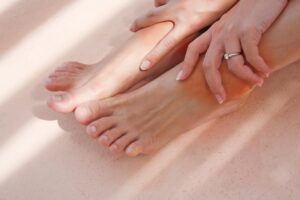 You only get one set of feet in this life of ours, so it incumbent on the individual to take good care of their feet. If not, you are on the road to flat feet or worse yet, plantar fasciitis when you don't practice good foot health. When the problems strike at your feet, the first thing that happens is pain, which creates the type of discomfort that reduces mobility.
As the adage goes, the longer you let a problem fester, the worse it becomes, which holds true for foot problems. The first thing you will find out about orthopaedic shoes is that it has excellent arch support. More to the point, when your feet are in distress due to problems that have come your way, know that orthopedic shoes for women will provide a cushion to blunt the impact or walking running or standing for long periods.
Depending on your foot condition, the shoe you wear can correct some of the problems that you may be experiencing. Foot alignment can be brought back to normal, pain reduction is immediate, and your foot problems won't be enhanced because you are wearing corrective footwear. Consistent wear of orthopedic shoes for women has been found to reduce pain and improve your foot fitness over time.
Custom orthotics are also a solid choice for those who relatively small foot problems. You can have an orthotic custom-made for inserting into most of the shoes you wear and receive the same relief as someone wearing shoes.
The best part of the custom orthotic is that it can be worn with any of the shoes in your closet as long as the shoe will support the addition of the orthotic. That certainly provides for versatility for your wardrobe and activities, like work.
Diabetic Neuropathy
People with diabetes suffer from neuropathy – what that means is the person with diabetes doesn't feel foot-related pain or discomfort. What that means for a person with diabetes, is foot-related problems go unnoticed until they are incredibly severe, making treatment a challenge. When you wear orthopaedic shoes, they afford a wide berth for your foot, and that promotes enhanced circulation to give your feet the comfort they need.
Orthopaedic shoes relieve nerve-pain associated with diabetic neuropathy, and you don't have to sacrifice style or comfort when you wear orthopedic shoes.
Pain Reduction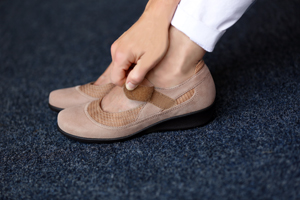 Pain reduction and comfort are what orthopaedic shoes say, and when you think about the average 10,000 steps you take every day, quality footwear is what you need. Find a pair of orthopedic shoes that fit correctly, and provide the support you need is the best way to counteract foot problems.
When you compare standard footwear with orthopaedic footwear, the most significant difference – apart from the support and corrective action they provide – is that the toe box has a lot more room for your toes. Remember that the type of footwear you need can be obtained in hard to fit sizes to accommodate even the toughest to fit feet when the need arises.
Orthopaedic shoes are specifically designed to prevent rubbing your feet inside the shoe and heel supports to keep your feet grounded in the shoe. It limits the foot from sliding to the toe box and compressing the toes in the toe box.
Alignment and Arch Support
Foot problems come from two different areas, improper alignment and arch support problems. When your arches are failing, walking becomes a chore that is filled with pain. It will discourage anybody with this problem from getting any exercise at all. If the problems aren't treated, surgery can be in your future, and the difficulties become magnified from there.
A pair of excellent orthopaedic shoes can help with the arch support you need and be the best thing you do to help correct your foot problems. If you look after your feet today, you prevent issues on the horizon tomorrow for your feet, and your mobility and pain-free lifestyle will be the net benefits.
Mobility Support
Orthopaedic shoes for women are a lifestyle issue – when you can't move around, you are severely limited in activities that diminish the quality of life you enjoy. Mobility issues come from many different conditions like a hammertoe, heel spurs, flat feet, plantar fasciitis, and bunions. People afflicted with these conditions experience pain with every step they take, and a sedentary life is a result.
When you slip on a pair of orthopaedic shoes, the world is your oyster because you will enjoy pain-free mobility, and your existing problems can be corrected as you wear the shoes.
Share This Story, Choose Your Platform!
For inquiries, please email our office at info@caremed.care, and we will send a quick reply will be sent about your condition. If you require a personal consultation that requires an appointment, please call the office today at Care-Med at 416.782.5353.