Injuries and degrading conditions require the use of a shoulder brace to reduce pain and speed up healing time. Shoulder pain is debilitating and causes a reduction in mobility, affecting the quality of life you enjoy.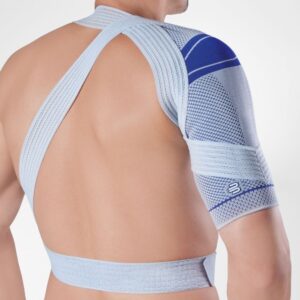 Some of the conditions that require a shoulder brace:
separated shoulder
tears to muscles and or ligaments
shoulder impingement
sleeping the wrong way
stress
dislocation of the shoulder
shoulder sprain
rotator cuff injury
If it is degenerative arthritis, you experience shoulder degradation that comes from conditions like osteoarthritis or rheumatoid arthritis. The need for a shoulder brace can span the young and old and everybody in between; if you don't act to protect your body with a shoulder brace for healing or to slow your degenerative conditions, you will be a one-armed person in no time. Losing your arm's use because you have shoulder problems is no way to go through life when there are solutions to mitigate the issues you face.
Many are working from home, and don't have ergonomic equipment in their home office like they have at work. Problems with posture will be commonplace and it is important for anyone who is suffering to get the devices they need to reduce inflammation and prevent a recurrence of old injuries.
Shoulder problems are nothing to sneeze at; when you need a brace to correct problems, you know that your friends at Care-Med have you back, er I mean shoulder.
At Care-Med, we carry the latest in shoulder braces to help alleviate pain and stimulate healing, and we stand by our product s and our talented team to create the best health outcomes for all our patients. To understand how the shoulder brace works for someone in pain, let's take a look at the benefits that a shoulder brace provides.
Strap on a shoulder brace for shoulder pain.
Shoulder protection
The first order of business for a shoulder brace is to protect and support your injured shoulder. A shoulder injury requires immobilization to take the stress off the injured and or inflamed area to help the healing process begin and see it through to conclusion.
Using a brace for exercise
When you see someone wearing a shoulder brace, the first thing you think of is that they have an injury. In some cases, yes, the shoulder is injured; in other cases, no, the shoulder needs some extra help. A shoulder brace can act as a support device for people who are exercising. Most people who wear a shoulder brace for exercise wear a double shoulder brace to provide comprehensive protection and support for their shoulders.
Fractures and ruptures require help from a medical device.
An injury or an accident that leads to the need for a shoulder brace as prescribed by a doctor will help reduce the injury's pain. Immobilization is essential; if you keep moving your shoulder when it is injured, it won't heal properly. You will be left with reduced shoulder mobility when you ignore the problem.
Shoulder braces don't need to be worn all the time.
When you have had your shoulder condition assessed, and the need for a brace is the desired outcome, be aware that it doesn't have to be a full-time requirement when wearing the brace. Your injury or condition will dictate how much you wear a brace in conjunction with your doctor's diagnosis. Injuries might need a brace to be worn all day, every day. If the affliction you feel is one of degenerative nature, you might have to wear the device for more extended periods than an injured party wears their brace. To get the most out of the shoulder brace, at the bare minimum, wear the brace for at least an hour a day to see the results you want from the device.
Types of Shoulder Braces
Injuries that occur from sports activity, shoulder overuse, falls, and workplace accidents often require a shoulder brace to stabilize the injured area. Common afflictions include but aren't limited to sprains/strains, rotator cuff tears, dislocation and stability problems. In that light, it is crucial to get the right shoulder brace to treat your issues quickly and in a pain-free environment.
The shoulder stabilizer
When you have had a shoulder operation or a sport-related injury, immobilization is the one way to bring about rapid healing. Wearing a shoulder stabilizer will reduce stress on the AC joint and prevent further damage. You reduce the range of motion and immobilization for injuries like rotator cuff problems, dislocations, shoulder separations, and shoulder strains when these conditions need treatment.
Improved posture
Posture support is essential; without it, we would look like question marks because we can't stand upright. The posture support brace is for low-impact activity; it can be worn at work or sitting or standing for a long time. The support can slipped-on over your clothing, and it is adjustable. Wearing this device will help with clavicle bones re-align with the shoulders to improve posture.
Double shoulder braces
Wearing a double shoulder brace will provide protection and will assist the rehabilitation process after surgery. If you have a circulation problem, this device will increase blood flow in your shoulder area to reduce shoulder tendinitis problems.
Trust Care-Med
Shoulder problems can lead to pain in the neck, back or arms when you don't wear a protective device. Your friends at Care-Med have all the shoulder brace accessories to improve the quality of your life with the great healing products they carry.
At Care-Med, we have over 13 years helping people recover from shoulder injuries and reduced the stress that degenerative conditions cause. If you have seen a doctor and he has advised that a shoulder brace is right for you, we have an excellent selection of shoulder braces to choose from.
Share This Story, Choose Your Platform!
For inquiries, please email our office at info@caremed.care, and we will send a quick reply will be sent about your condition. If you require a personal consultation that requires an appointment, please call the office today at Care-Med at 416.782.5353.