Whether you are experiencing plantar fasciitis, arthritis, heel spurs, bunions, neuropathy, diabetes, hammertoes, or other types of painful conditions, orthopedic shoes can help bring some much-needed relief to your discomfort and pain.
The first step to take if you think you're suffering from any of these conditions is to receive an accurate diagnosis from or podiatrist. Once your physician prescribes orthopedic shoes for the foot condition you are suffering from, you will be able to shop from a variety of stylish shoe brands.
The bulky and ugly appearance of orthopedic shoes has come a long way. You no longer have to wear embarrassing shoes and can instead shop from discrete styles that look natural and help you look your best.
You don't have to sacrifice fashion for health and comfort. Recent shoe designers have come up with creative ways to combine both needs with a variety of shoe styles, many of which are reimbursed by Medicare under the Therapeutic Shoe Bill, depending on your plan.
We will explore the five of the most stylish orthopedic shoe brands to help you on your shopping journey to better foot health. Let's begin!
1. Drew Bexley Lightweight Slip-on For Men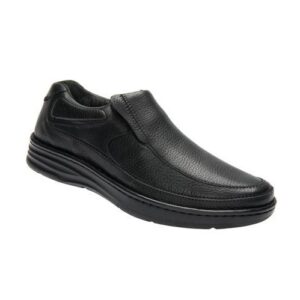 For a custom fit, the Drew Bexley orthopedic shoes model features an advanced fitting system that allows you to adjust it to custom fit each foot. The fitting system includes two footbeds with a removable design, plus a slip-on feature with twin gore stretch.
The material promotes ventilation to prevent odor and is lined with Drilex liners and soft leather for ultimate comfort. These shoes offer high-end comfort and cushioning.
Feel secure with each step with Drew's polyurethane outsole for a lightweight feel, tempered steel, and rocker bottom propel you forward providing great stability. This style and brand is recommended for foot conditions such as plantar fasciitis, bunions, hammertoes, high arches, flat feet, Metatarsalgia, and are perfect for diabetic patients.
These shoes are perfect for casual to semi-formal wear, they look sleek and elegant.
Highlights:
Lined with Leather and Drilex
Sturdy Heel Counter
Shank Made With Tempered Steel
Construction by Opanka
Precise Fitting System With Removable Footbeds
Construction is Double Depth
Outsole Made From Polyurethane For Lightweight Feel
Rocker Bottoms For Ultimate Stability
Compatible with Prescribed Orthotics
Collar and Tongue Designed with Foam Pad For Softness
2. Apex – Knit Active Shoe Breeze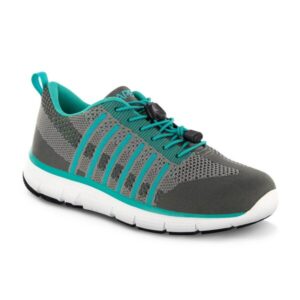 The Apex – Knit Active Shoe Breeze for women always you to be active while your feet are in total balance and comfort. They are able compatible with orthotics with their double depth design and feature a fitting system with removable footbeds.
You will be able to go the extra mile during your day with their heel cushion and built-up arch. Feel lightweight with their rocker bottom and rubber outsoles, you will feel stable and supported while experiencing a snug fit.
Another great feature is a microbe shield and their Drilex lining that help your feet stay dry and free from germs. Feel like you are floating on air from the firm heel counter and metatarsal support that relieve pressure on your feet as they step on the ground.
Have fun with these shoes as they feature bright colours that will look great with your athletic or casual wear.
Highlights:
EVA Wedge Midsole on Rubber Outsole for Lightweight Flexibility
Rocker Bottom With Total Contact
Synthetic Fiber Shank is Built-in with Wide Design
Sturdy Heel Counter
Footbed Features a Heel Cushion, Maximum Built-Up Arch, and Removable Material Made From Polyurethane
Compatible With Prescribed Orthotics
Double Depth and Removable Footbeds With Their Plus Fitting System
3. Anodyne No. 56 Therapeutic Trail Boots For Men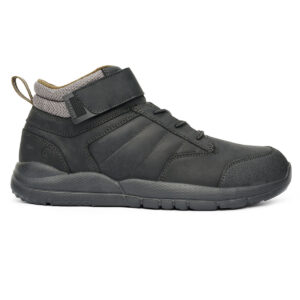 Gain various health benefits with these Anodyne Trail Boots including pain relief from edema, bunions, ankle pain, arthritis, and other conditions. These boots are perfect for outdoor lovers that need functionality in all terrains.
They feature a microfiber lining that keeps your feet dry and comfortable. The boots are perfect for activities such as running, hiking, and walking. Their hook and loop closure is fully adjustable and they feature an oiled leather upper.
You are guaranteed to enjoy durability from these boots, along with great comfort. For people who are diabetics, they are the perfect pair. Although they are made for rugged terrain, they are still very lightweight for ultimate comfort.
Highlights:
Diabetic Friendly With A5500 Certification
Only weigh 10.5 onces
Microfiber Lining
Hook and Loop Closure
Perfect For an Active Lifestyle
4. Krista Orthopedic Boots For Women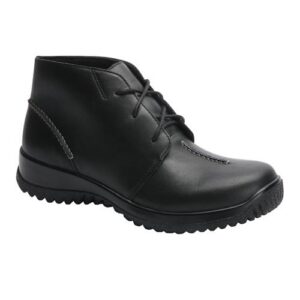 Never sacrifice style and comfort for functionality with the Krista Orthopedic Boots. They are designed with a smooth fabric lining that will allow you to stay comfortable all day.
Their polyurethane footbed featuring a Drilex top cover and a footbed that accommodates prescribed orthotics are sure to enhance your level of comfort. In case you ever need a more ample depth in your shoes, these Krista boots feature an advanced fitting system that allows you to remove a secondary footbed.
Feel stable and secure with their shanks made from tempered steel and their sturdy heel counters. Enjoy arch support while sporting a lightweight and flexible pair of boots. Their stylish design lets you combine a variety of casual outfits.
Highlights:
Footbed With Drilex Top Cover and Removable Polyurethane
Shank Made With Tempered Steel
Comfortable Fabric Lining
Sturdy Heel Counter
Double Depth and Removable Footbeds With Plus Fitting System
Compatible With Prescribed Orthotics
5. Ariya Moc Toe Casual Walking Shoe For Men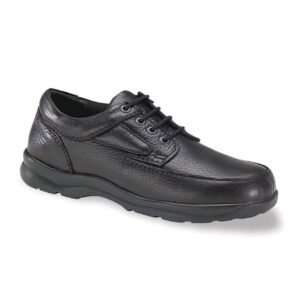 The amazingly comfortable Ariya Moc Toe walking shoes are appropriate for both casual and formal wear. Their outstanding therapeutic design provides the best functionality and comfort.
They are made with a high-end grain leather upper material and lining and feature lace-up closure. Feel complete support and shock absorption with their dual top soles with a removable design.
Sturdy heel counters allow you stability and motion control during various types of activities. Their ultra-soft padded collar prevents you from getting painful blisters while the wide toe boxes bring relief to corns and bunions.
These orthopedic shoes feature a great anatomically design and you can choose from a variety of widths to perfectly fit the dimensions of your feet. The shoe's structured contour and improved stability bring comfort and style together appropriate for a variety of settings.
Highlights:
Compatible With Prescribed Orthotics With a 5/16" Removable Depth
Insole is Removable Featuring Apex Performance
Mozaic Customization Technology
Double Depth For Versitility
Lining Made From Polyester and Leather Helps You Stay Dry
Diabetic Friendly
Polyurethane outsole Featuring Maxum Lite Provides Resistance and Shock Absorption
Sturdy Heel Counter With Ultra Soft Padded Collar
High Quality Full-Grain Leather Upper
End Notes
As you can see, orthopedic shoes have come a long way! These orthopedic shoe brands are the most stylish found on the market while maintaining high functional standards. The brands listed above guarantee the best features to keep your feet healthy.
You will be able to find boots, athletic shoes, casual, and formal wear. Most brands are diabetic-friendly and have the features that podiatrists recommend to achieve the most medical benefits.
With such stylish brands, you will hardly remember you are wearing orthopedic shoes. Your feet deserve the best and you deserve to feel confident and look great
Share This Story, Choose Your Platform!
For personalized care and to find the best Orthotics, Body Braces, or Compression Wear in Toronto, reach out to Care-Med LTD. Email us at info@caremed.care or if you prefer a personal consultation that necessitates an appointment, call our office at Care-Med today at 416-782-5353. Experience the difference of tailored solutions for your needs.